Kittens of Star and Juli
(Date of Bath: Feb.6.2002)


@@@@@Japanese
Sire: CH. PARITYBIT DORI II@@@@@@@@@@@
Dam: GC. RUMFORD STARDUST of HIMEDARUMA

–––––––––––––––––––––––––
To be honest, I wouldn't have any kitten,
because I am a princess, Mama call me so.
I had always evaded proposition from any boys elegantly,
even if they were handsome princes.
But I had fallen in love...
I can't still believe that such things happen on me.
I couldn't imagine that I became a mama and took care of my babies.
I have no idea why I feel so happy, but I am really happy !
What sweet babies they are ! I love my babies soooooo much !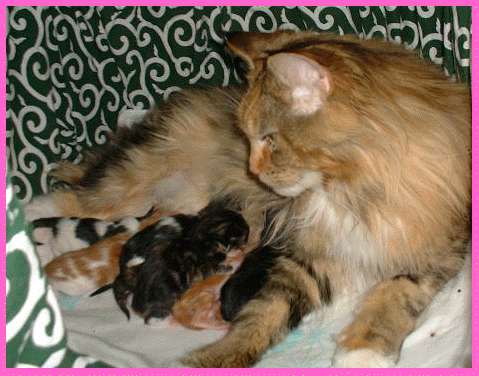 ---
I will show my kittens, when they open their eyes and become cute.
Please sometimes check up this site.(Feb.6.2002)
***
Some of kittens are available. Feel free to e-mail us for details, if you are interested in our sweet kittens.
himedaruma@mvj.biglobe.ne.jp
HIMEDARUMA HOME